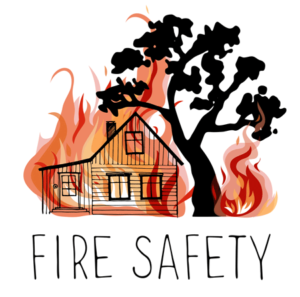 Fire safety is an incredibly important topic and one that should not be limited to National Fire Prevention Week in October. Kids need to reinforce their fire safety smarts throughout the year–luckily there are several fantastic resources out there that will engage them and teach important lessons in fun and imaginative ways. Check out some of the best fire safety resources for kids:
1. U.S. Fire Administration's 'Let's Have Fun with Fire Safety' Activity Book. This activity book features a kid-friendly introduction to fire and a variety of activities that reinforce fire safety. Kids can use the handy grid to draw an escape plan or have fun with math in a color-by-number page that helps identify two ways out of a room. The cute black-and-white illustrations are perfect for small hands that love to color.
2. Fire Safe Kids!. This website offers free resources and games created to teach kids about fire safety in an enjoyable way. Word scrambles, puzzle games, and rescue adventures are just a few of the online games available on Fire Safe Kids–kids can unlock even more games by clicking on the lock and reading through the "Prevent, Plan, and Practice" lesson. Printables like mazes, connect-the-dots, and word activities will further reinforce lessons learned throughout the site.
3. NFPA's Sparky. Sparky the Fire Dog has been around since 1951, educating kids on the dangers of fire and the importance of fire safety. Kids will enjoy reading the online book "The Story of Sparky the Fire Dog". Adorable illustrations of this lovable Dalmatian pup tell the exciting story of how he saved a family's life and became the firehouse dog. Games and apps provide a fun way to learn about fire safety and other activities include a placemat, cootie catcher, hidden picture puzzles, iSpy, pencil toppers, calendars, pinwheels, and much more.
4. Miss Mingo and the Fire Drill. This book by Jamie Harper covers the topic of fire drills at school. Fire drills are a regular practice at schools, but they can be a bit intimidating for younger children or those with anxiety. Many children may feel panicked during a drill, and this endearing story about Miss Mingo and her sweet students can help to ease some of that fear with a little sprinkle of humor.
5. No Dragons for Tea: Fire Safety for Kids (and Dragons). Reinforcing ideas about fire safety is easier when a child is engaged in the lesson. What better way to engage them than with a delightful, colorful story about a dragon? Kids will learn important information about fire safety when this friendly dragon accidentally sets his friend's table on fire during tea–rhyming verse and lots of humor makes information easy for kids to remember.
6. Smokey the Bear and the Campfire Kids. This e-book teaches kids that it's not only important to practice fire safety in the house, it's also important to be fire safe in the forest. Colorful illustrations and surprise animations help this story grab kids' attention.
7. FEMA Home Fires Fact Sheet. FEMA provides the country with fantastic resources regarding a variety of emergencies. FEMA's "Home Fires" fact sheet is full of essential knowledge to help children understand how fires start, what kinds of equipment can keep their homes safe, and what to do in case of a fire. The "Before, During, and After" checklist contains detailed, easy-to-read fire safety steps.
8. American Red Cross's Monster Guard. This mobile app created by the American Red Cross is an excellent way to teach children about all kinds of emergencies, including fires. The app engages children in an adventurous game that reinforces safety ideas throughout different levels and encourages kids to talk about safety with adults. Chad, the team captain, specializes in home fires and teaches extensive fire safety lessons including the dangers of fire hazards and how to escape from a house fire.
Reinforcing the importance of fire safety with children is crucial. In order for kids to remember how to react in case of a fire, families should go over exit plans and outside meetings places regularly. Always remind children to avoid dangerous objects that could start a fire. These resources offer a fun way to learn about fire safety and remember important lessons.